With SimpleSportsCaster you can live stream and record your team's games with a scoreboard that's customizable and easy to operate.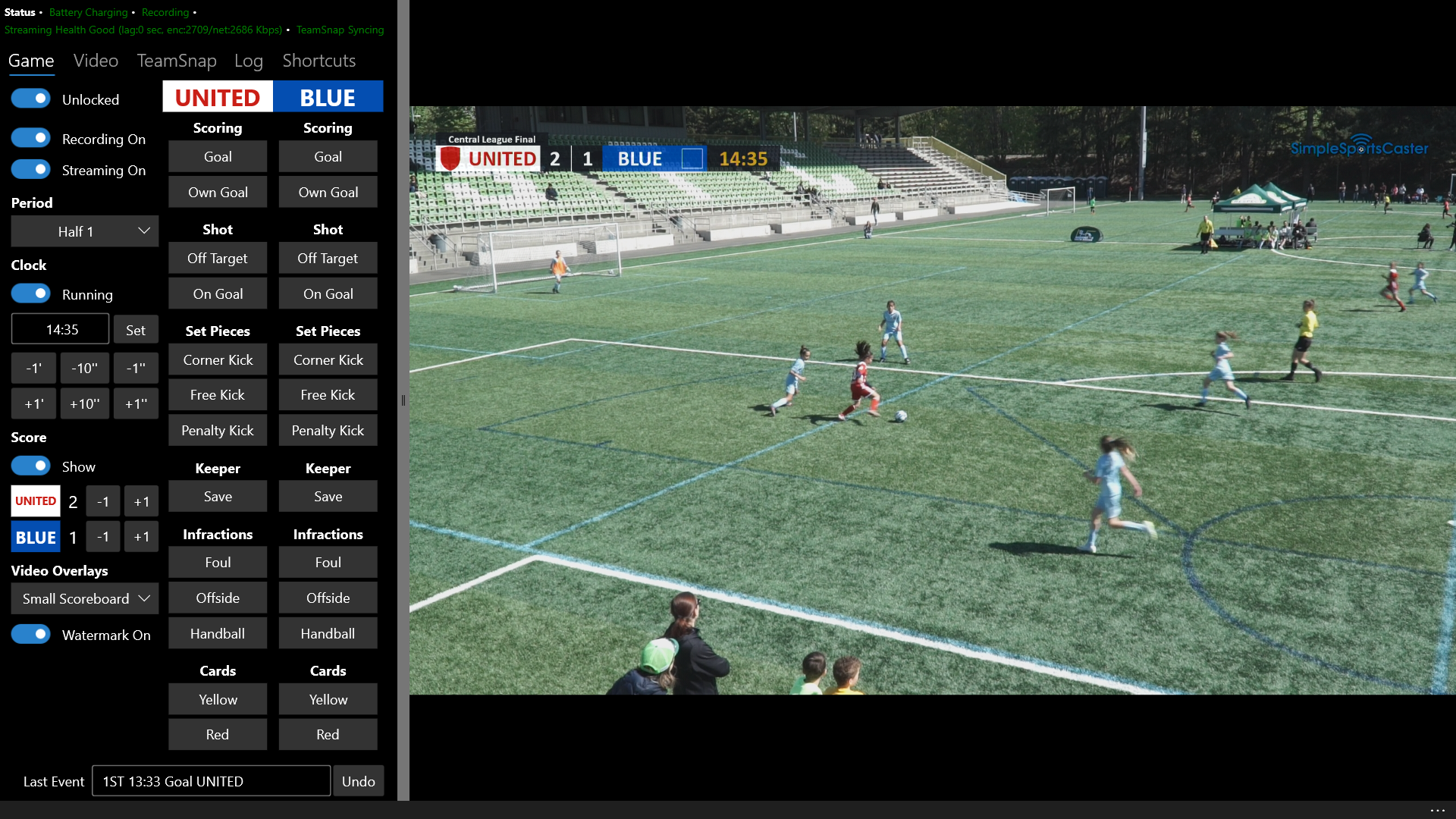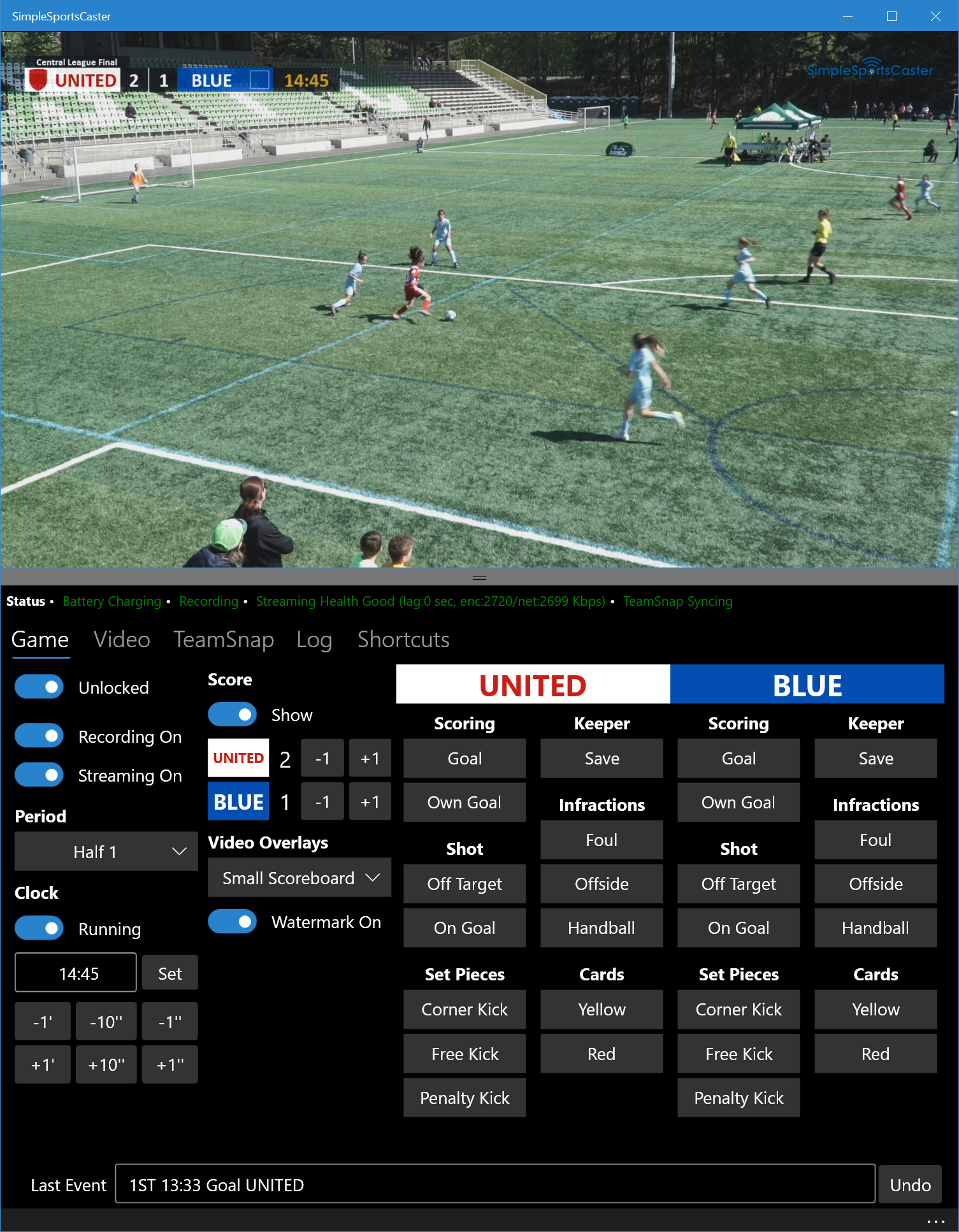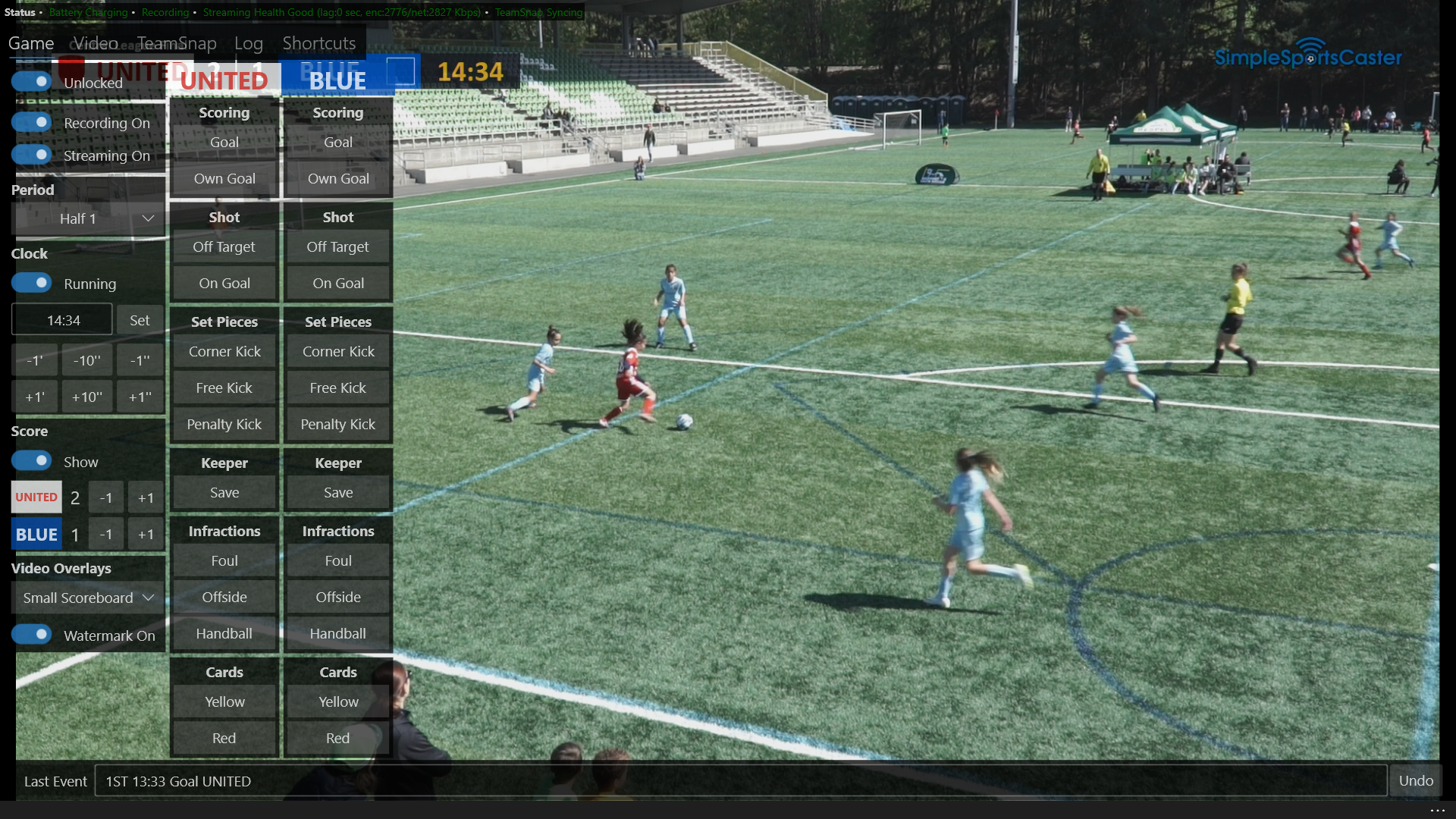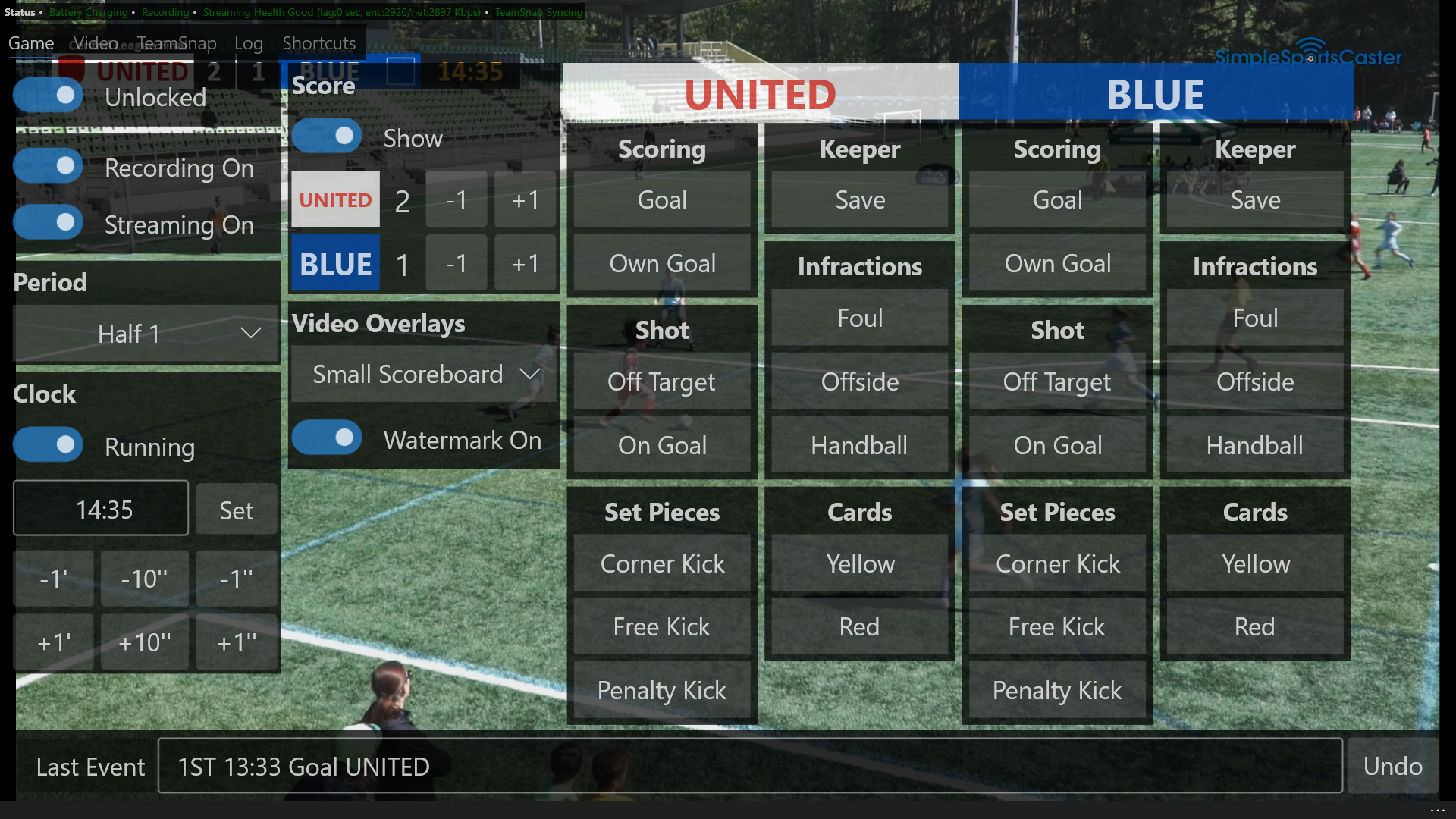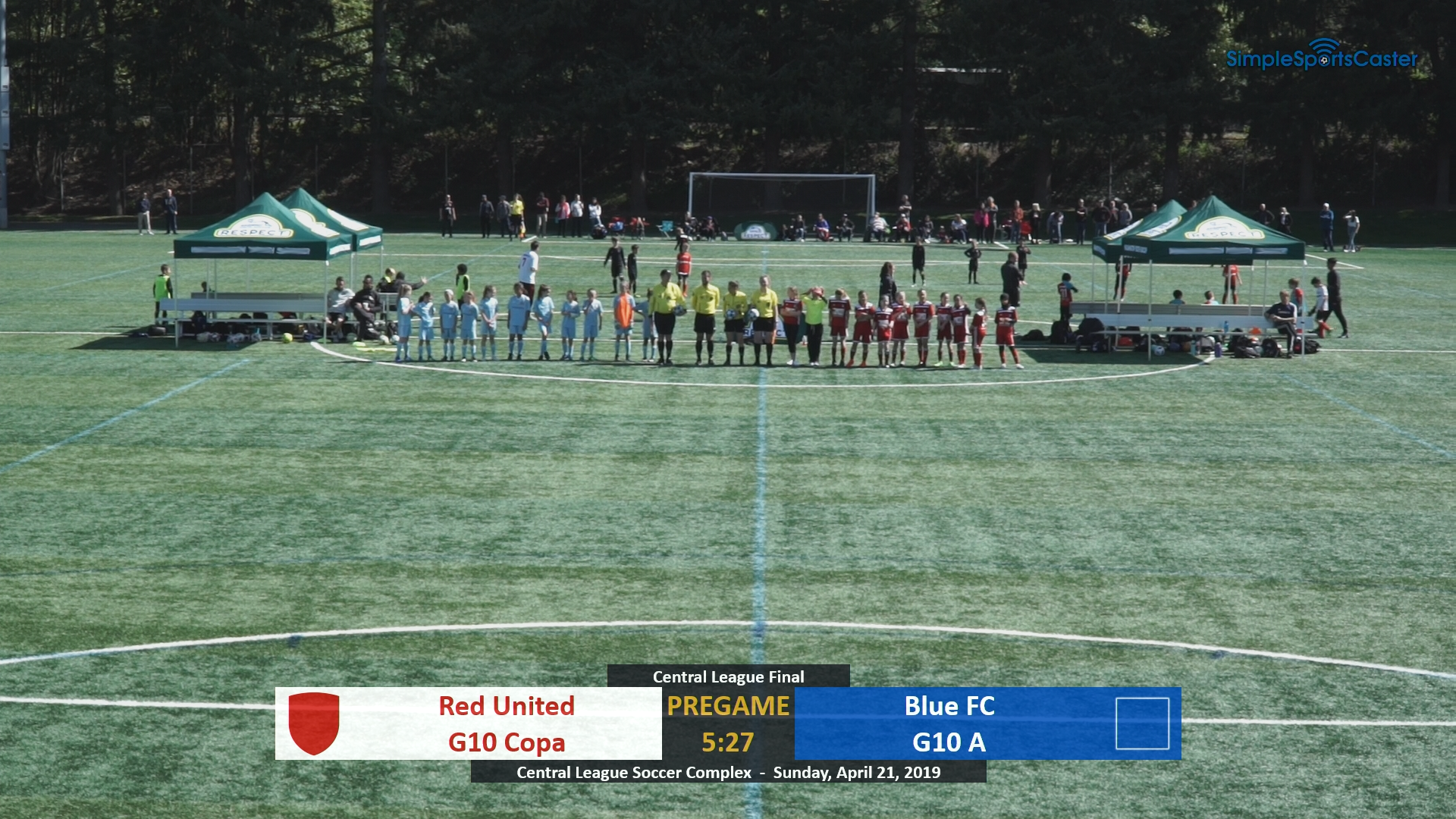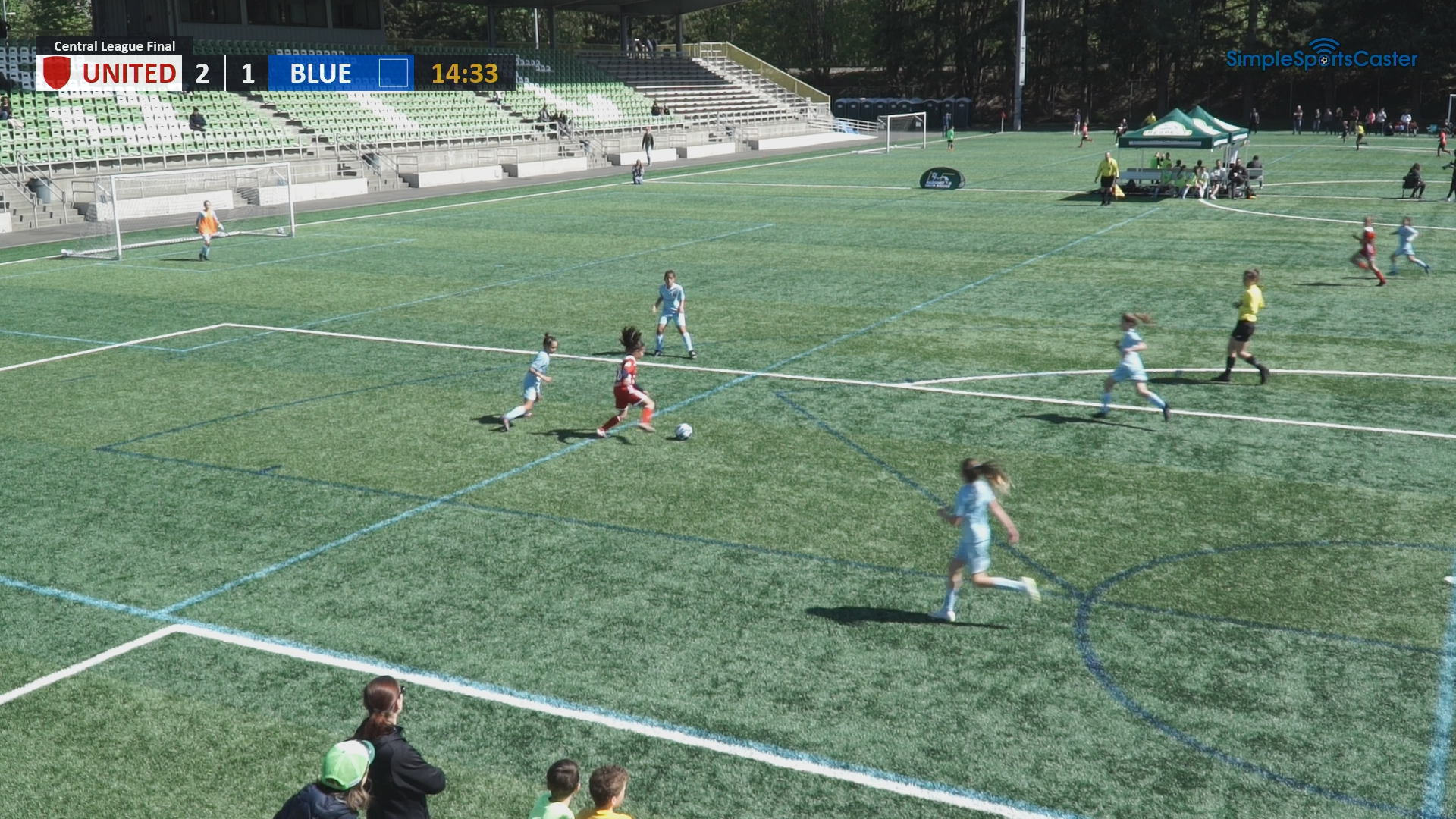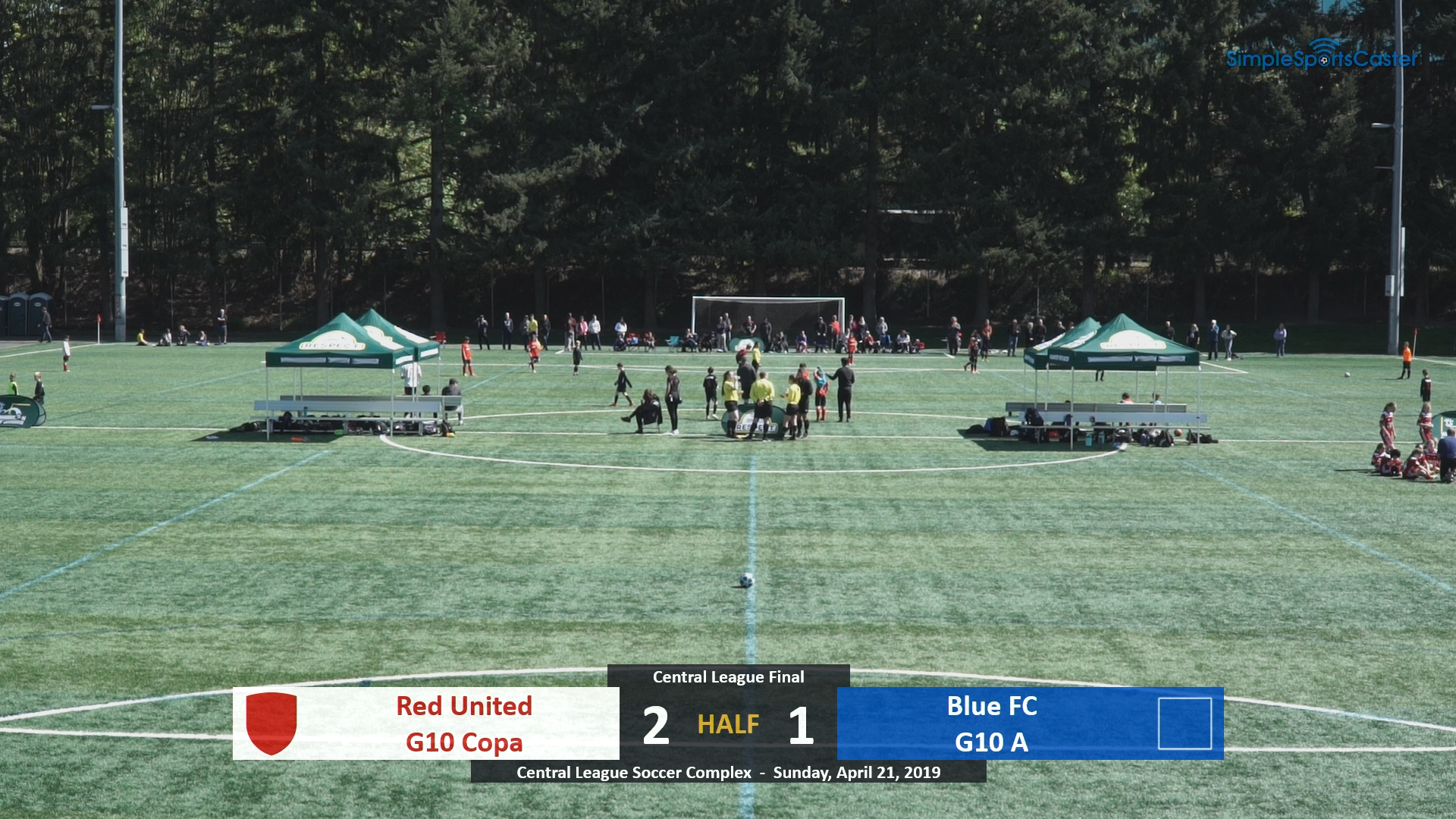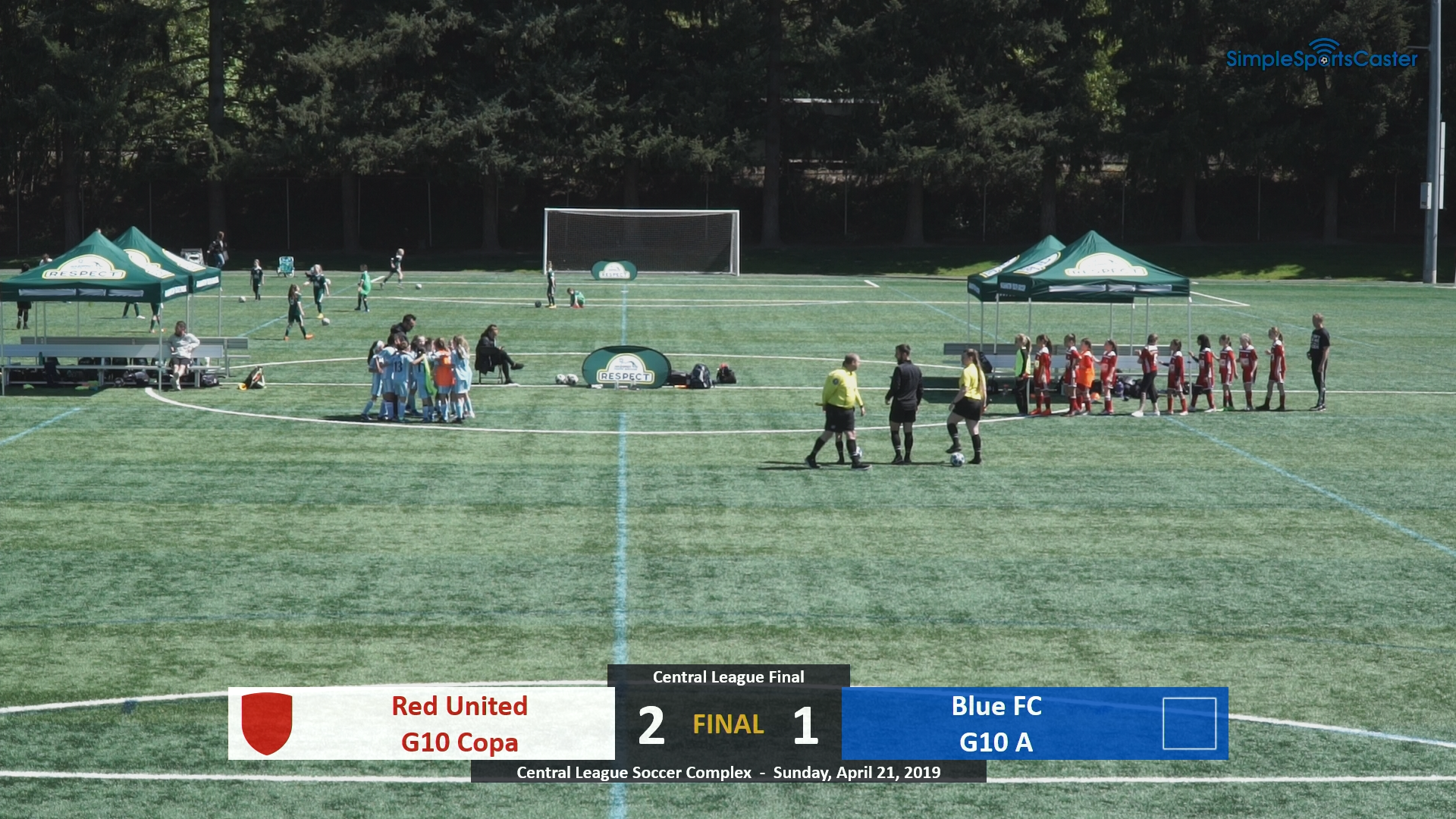 Features:
Customize the scoreboard with team colors and logos.
Live stream to YouTube or any other service supporting RTMP.
Record high definition video at up to 1080p at 60 frames per second or 2160p at 30 frames per second.
Tag important events during the game so you can quickly find them while reviewing your footage later.
Show game information on the bottom third of the screen during pre-game, half time, or after the match.
Experimental: Keep your TeamSnap Live! scoreboard in sync with the video scoreboard.
SimpleSportsCaster runs on Microsoft Surface Pro and other Windows 10 devices and is available from the Microsoft Store.
Beta Testing
SimpleSportsCaster is currently in beta testing. Everyone is encouraged to test the app, report bugs and make feature requests on the contact page.
The free version of SimpleSportsCaster puts a watermark over the upper-right corner of your video. While SimpleSportsCaster is in public beta testing, you can remove the watermark for free by clicking the "Buy Now" button at the bottom of the screen and signing into the Microsoft Store to unlock the full version. The unlock will last for 30 days at which point you'll have to unlock again.
In the future, SimpleSportsCaster will use a subscription model to unlock the full version. Pricing to be determined.
Version History
Version 1.1.218.0 (29 February 2020)
Fix a bug that sometimes caused database syncing to fail quietly.
Version 1.1.217.0 (26 February 2020)
Mitigate a crash bug that sometimes happened when showing or hiding the buttons in overlaid preview mode.
Version 1.1.216.0 (25 February 2020)
Update to AppCenter 3.0.0 (analytics and crash reporting)
Version 1.1.215.0 (24 February 2020)
Version 1.1.209.0 (10 February 2020)
Add support for license keys.
Add support for concurrent user limits. The beta will limit you to running one instance of SimpleSportsCaster at a time per Microsoft account.
Disable YouTube live stream health queries to avoid exceeding YouTube API quota limits. More info here.
Version 1.1.200.0 (29 January 2020)
NOTE! This build will upgrade your game databases. The upgrade is automatic and one-way so once you install this build you won't be able to use your databases with older builds. If necessary, you can save a backup copy of each of your game databases by using the Export button on the Database page prior to installing this build.
Keep your game database synchronized between multiple computers. Details here.
Prevent new games from being created without home and away teams.
Allow liveries to be created without logos (i.e. logos are optional now).
Show a red exclamation on folder paths that aren't valid.
Show "Health No Data" status in red if YouTube isn't getting any video data during a live broadcast.
Detach the status text from the opacity slider because barely readable status text isn't helpful.
Disable swiping between tabs on Database and Game pages because button presses were sometimes being interpreted as swipes.
Add EditDateTime as an optional column in all data grids (defaults to off). Use this to see when a record was last changed.
Fix several crash bugs.
Version 1.1.184.0 (15 January 2020)
Improve styling of pivot header in overlaid preview mode.
Package updates: Microsoft.Windows.CppWinRT 2.0.200115.8 and Telerik.UI.for.UniversalWindowsPlatform 1.0.1.8
Version 1.1.182.0 (14 January 2020)
Customizable video watermark. Details here.
Support for scalable vector graphics (SVG) files for team, club, and league logos.
Still show status text even when the overlaid preview buttons are hidden (can be disabled).
Apply light/dark themes more consistently throughout.
Remove borders around button groups and add more transparency in overlaid preview mode.
Show the friendly name of the I420 pixel format used by Elgato hardware (instead of showing a GUID).
Version 1.1.175.0 (6 January 2020)
Improved keyboard shortcuts.
New overlaid video preview mode to maximize the size of the preview window in landscape mode.
New countdown clock mode for NCAA college games.
Pregame now counts down the time until kickoff.
Many other new features and improvements. Details here.
Version 1.1.164.0 (6 December 2019)
Fix a null reference exception that could sometimes happen a few seconds after finishing a recording.
Properly set the privacy of automatically created YouTube broadcasts.
Package updates: Microsoft.UI.Xaml 2.3.191129002 and Microsoft.Windows.CppWinRT 2.0.191202.6
Known issue: The scoreboard and game clock don't redraw while the app is minimized.
Version 1.1.163.0 (4 December 2019)
Add an option to automatically create a new YouTube broadcast for each game. This allows multiple games to be streamed on the same channel simultaneously. To use this, choose (Auto) from the YouTube Broadcast selection drop-down on the video settings page.
Known issue: The scoreboard and game clock don't redraw while the app is minimized.
AppCenter 2.6.2
Version 1.1.161.0 (28 November 2019)
Improved live stream bitrate throttling that now works on Intel Quick Sync hardware. This lowers the stream encoding quality as necessary to match network bandwidth when your network connection is slower than you expected. Also add a "lag" metric on the status line that shows how many seconds of video are in the queue waiting to be streamed. The lag will be zero if your network is fast enough but could increase to 10 or more seconds if the network is slow.
Fix a bug where the clock set button sometimes wouldn't work.
Fix a crash in logging for handled exceptions.
Known issue: The scoreboard and game clock don't redraw while the app is minimized.
Package updates: AppCenter 2.6.1, Windows Community Toolkit 6.0.0
Version 1.1.156.0 (27 November 2019)
Request backgroundMediaRecording permission to ensure that recording/streaming continues when minimized.
Enable full screen toggle buttons.
Newtonsoft.Json 12.0.3
ffmpeg 4.2.1
Version 1.1.149.0 (4 November 2019)
Upgrade to AppCenter 2.5.0 for improved diagnostics and crash reports.
Fix a bug that could cause crashes or other instability when switching between the large and small scoreboards (e.g. when switching periods).
Version 1.1.147.0 (22 October 2019)
Fix an app suspend/resume bug that caused the scoreboard buttons to perform their actions multiple times on a single press.
Prevent exported video timestamps from sometimes being negative if they were within 15 seconds of the start of recording or streaming.
Support the blink(1) mk3 USB light for use as an on-air indicator.
Version 1.1.144.0 (17 October 2019)
Fix numerous memory leaks, some of which could cause old instances of the game screen to remain active.
Fix a bug that would sometimes cause the game clock to go blank when desktop screen scaling wasn't set to 100%.
Avoid setting live stream metadata if the stream didn't complete successfully. This should help prevent the metadata from accidentally being applied to the default YouTube broadcast.
To help diagnose and fix live stream issues in the future, add more diagnostic logging of stream events, status, and performance.
Version 1.1.141.0 (7 October 2019)
Fix a crash when suspending/resuming while video capture device in use.
Show more helpful error messages when streaming fails.
Version 1.1.138.0 (30 September 2019)
Automatically set the YouTube live stream replay video title and description with game information after the live stream completes.
Use external browser for YouTube authentication to meet Google security requirements. You will need to log into YouTube again for any accounts you added previously.
Better error handling when the connection to the camera is lost.
Warn when disk space is running low while recording.
Fix a crash that sometimes happened when creating a new database.
Current database combo sometimes got disabled erroneously.
Version 1.1.129.0 (5 September 2019)
New app logo.
Add .webp, .bmp, .dib, .gif, .heic, .tif, and .tiff support to the logo picker.
Version 1.1.126.0 (8 August 2019)
Synchronize keyboard shortcuts between all devices sharing the same Microsoft Account.
Expose video encoder profile setting for recording and streaming so users can fine-tune the balance between video quality and power consumption.
Prevent accidental deletion of database records that are referenced by other records. For example, you can no longer delete a logo image that is current being used by one or more liveries.
Disable wireless display support to reduce video preview startup time.
Version 1.1.125.0 (1 August 2019)
Automatically decrease streaming encoder bitrate if network bandwidth is too low
Handle YouTube stream key resets more gracefully
Disable streaming switch if capture devices aren't selected
Fix crash when quitting the app while recording or streaming
Version 1.1.122.0 (24 July 2019)
Prevent the same team from being both home and away in the same game
Improve game clock display update precision
Add option to export YouTube video description from game log
Set default h264 profile back to Main from High to save power
Version 1.1.117.0 (19 July 2019)
Configurable keyboard shortcuts for buttons and other scoreboard controls on the game screen.
Version 1.1.116.0 (14 July 2019)
Remove the "Subscribe Now!" banner as soon as purchase is complete.
Limit the height of team label on scoreboard control panel.
Version 1.1.115.0 (19 June 2019)
Implement in-app purchase (free) to unlock the full version of the app for 30-days during beta testing.
Simplified clock and score control.